The New Way to Watch UFC PPV: ESPN+
Watching UFC Pay Per View (PPV) on your TV now requires ESPN+ because the new streaming service holds exclusive rights for the Main Card. You can't buy UFC PPV fights through UFC.tv or a cable provider such as Comcast or Spectrum anymore. 
That includes the upcoming UFC 242: Khabib vs. Poirier, which you'll be practically watching right after lunch given its start time. I'll get back to that in a sec. 
There are a couple of ways to watch UFC fights online now. 
ESPN+

costs only $4.99 per month, but that's just one piece of what you need. You can either pay for a month of ESPN+ and then just

buy the PPV for $59.99

for a total cost of $64.98. 
Paying ESPN+ for a year gives you access to its UFC on-demand library. There are sections dedicated to a number of MMA fighters. And you can even watch some well known fights of the past. 
Want to see Conor McGregor vs Khabib Nurmagomedov again? It's on ESPN+. Same goes for some past UFC fights with Anderson Silva, Max Holloway, Michael Bisping and Brock Lesnar.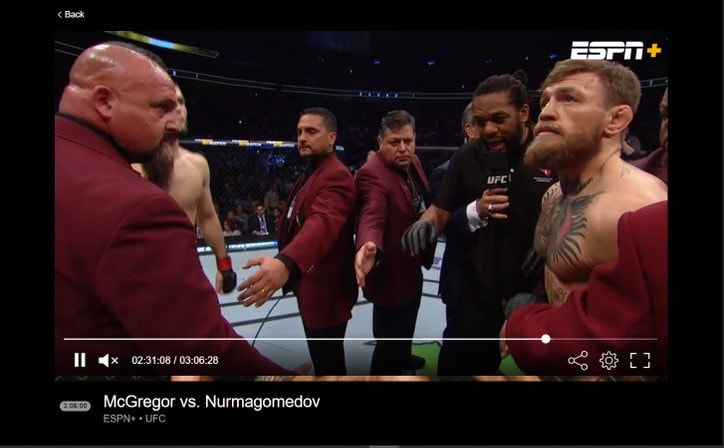 So if you like having access to UFC's library, and want to set yourself up for purchasing future PPV fights, getting the bundling UFC and ESPN+ for a year makes sense because its only $15 more. 
Once you pick your subscription, you can watch it a number of different ways. ESPN+ resides within the ESPN app. So you can watch UFC PPV events on your smartphone, Roku, Apple TV, Fire TV, PlayStation 4, Xbox One, Chromecast and even Oculus Go. 
UFC 242 Start Time
The UFC Main card featuring Khabib Nurmagomedov vs Dustin Poirier has an unusual start time at 2 PM on Sept. 7. Why the early start time? Because the fight is happening on the other side of the world at The Arena on Yas Island in Abu Dhabi.
The Co-Main Event is between Edson Barboza vs Paul Felder.
What's at stake for Khabib and Poirier
The lightweight title is on the line. It's been a year since Khabib has fought. He's the current lightweight champ with an undefeated record of 27-0. He's the Number 2 ranked pound-for-pound fighter and three-time World Sambo Champion. 
But if anyone can break Khabib and take the title, it's Dustin Poirier. He is on a four fight winning streak, and all of his opponents were current or former champions. At his last bout, he became the interim lightweight champion. He won the title by beating Max Holloway at UFC 236. That matchup put an end to Holloway's 13-fight winning streak. 
UFC 242 will be Khabib's second title defense, and his first fight since beating Conor McGregor at UFC 229. So the stakes are pretty high for Khabib and Poirier.
Even with all the anticipation for Khabib vs Poirier, the Co-Main Event is poised to be a memorable bout as well. 
Edson Barboza is currently the Number 7 ranked UFC lightweight. He's a multiple Muay Thai champion, and six-time Fight of the Night winner. 
Barboza will face Paul Felder, the Number 10 ranked UFC lightweight who also goes by the nickname the Irish Dragon. Barboza may be ranked higher as a UFC lightweight, but he's coming off a knockout loss. Felder is on his way up with a four fight winning streak. And his last four wins all came at the expense of current or former champions. 
Want to watch the preliminary fights on FX? Hulu with Live TV is my top pick for that. I explain why in the next section that covers all your options for where and how you can watch UFC Fight Night on different ESPN-owned networks.
Where and How to Watch UFC Fight Night
Most UFC Fight Nights live stream on ESPN+. But if you look over the UFC schedule, you'll see that some fight nights will be live on ESPN or ESPN2.
There are a number of ways to live stream ESPN and ESPN2 for upcoming UFC Fight Nights. 
Why is Hulu with Live TV my top pick for live streaming UFC Fight Nights on ESPN or ESPN2? Because when you compare what you're getting out of the service, it gives you the best overall value for your money. 
Subscribers get a full suite of ESPN networks, FS1, FS2, news and entertainment networks such as A&E, FX and Nat Geo Wild. 
You get 50 hours of Cloud DVR, the ability to activate almost 40 apps on your streaming device and unlimited access to Hulu's on-demand library. That's the same on-demand service that people pay $5.99 per month for. Look over what local channels and regional sports networks that Hulu carries in your area. 
AT&T TV Now: Watch UFC Online 
AT&T Now has ESPN networks in its basic Plus channel bundle. Subscribers get 45+ channels including HBO, ABC, NBC, ESPN and Showtime for $50 per month. You can record up to 20 hours of shows, movies and games with Cloud DVR. 
AT&T TV Now offers a free 7-day trial. 
Sling TV: Stream UFC Fight Night on ESPN
Sling TV is the cheapest option to get ESPN and ESPN2. The Orange plan costs $25 per month for 34+ channels, including AMC, HGTV and TBS. For another $5 per month, you can add 50 hours of Cloud DVR for recordings. Sling TV offers a free 7-day trial. 
PlayStation Vue: UFC Fight Night Live Stream
PlayStation Vue carries ESPN and ESPN2 on its Access package, which costs $44.99 per month. Subscribers get 41+ networks, including FS1, Bravo and Discovery along with Unlimited Cloud DVR. PlayStation Vue has a free 5-day trial. 
YouTube TV: Watch UFC Online
YouTube TV has ESPN, ESPN2 and ESPN3 as part of a 75+ channel package for $49.99. The streaming service works on just about every major streaming device except Amazon Fire TV. 
New customers can check out a free 7-day trial. 
What's on UFC Fight Pass
UFC Fight Pass live streams a number of MMA fights from Invicta FC, GLORY Kickboxing, QUINTET (Team Submission Grappling), Eddie Bravo Invitational, Polaris, and others. 
UFC Fight Night events that air on TV in the U.S. or are sold as PPV become part of the UFC Fight Pass library roughly a month after the original air date. New customers can check out a free trial of UFC Fight Pass. 
What's the Best Way to Watch UFC PPV Online?
I've just thrown a bunch of information at you, so let's recap the most important stuff. 
You will need ESPN+ for watch UFC PPV online. But there are two options for purchasing a PPV. 
Option 1: Pay for a month of ESPN+ ($4.99) and then buy a single PPV for $59.99 for a total of $64.98.
Option 2: If you're a pretty big UFC fan, the better option is to bundle an ESPN+ subscription for a year, and buy your PPV fight at a 25 percent discount for a total of $79.98. Having ESPN+ gets you access to the UFC on-demand library. When you buy another PPV later this year, you already have an ESPN+ membership. 
No matter which option you choose to watch UFC online, you'll be able to live stream fights to your iPhone, Apple TV, Roku, Fire Stick, PlayStation 4, and anywhere else you have an ESPN app. So how are you watching UFC fights live? Tell fellow readers in the comments below.
For more tips on live streaming favorite sporting events or shows, head over to the main page of the Cord Cutting Report.