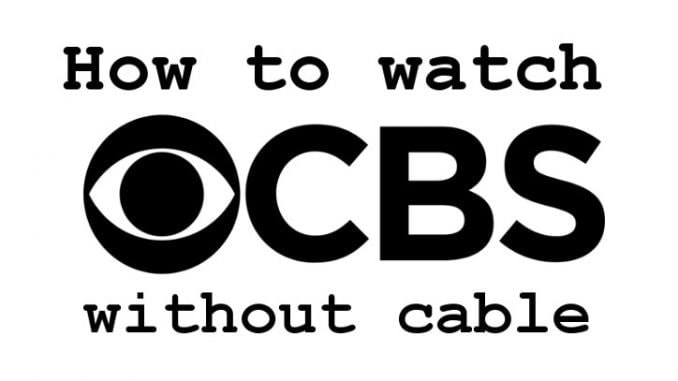 Live Stream CBS Online Without Cable TV
The cheapest way to watch CBS for free – and without cable – is with a TV antenna.
But a TV antenna won't work for everyone.
This guide will quickly outline all your choices to watch CBS live, and even stream NFL football, college football, shows like Magnum P.I. and The Late Show with Stephen Colbert.
CBS All Access is your second cheapest option. For $5.99 per month, you can get a live stream of CBS in 200 markets, and all of its shows on-demand the day after the live broadcast. CBS All Access has a free 7-day trial.
Hulu with Live TV is a better fit for someone who wants CBS and a full suite of sports channels like ESPN, Big Ten Network, and entertainment channels. Subscribers get 60+ live channels, 50 hours of Cloud DVR and unlimited access to Hulu's on-demand library. That's the same library that people pay $5.99 per month for.
So you're really getting two streaming services for the price of one. You can look at Hulu's channel lineup in your area before making any decisions. 
If you choose either one of these services, you can live stream CBS on a Roku, Fire TV, and most other streaming devices including an iPhone or tablet. You can easily cancel online if you don't like it. No hidden fees or contracts.
Watch CBS for free using a TV antenna
You can easily jump into this new era of cord cutting by checking whether you can use a TV antenna for some free CBS. Head over to Antenna Web and punch in your zip code or address.
If you see a CBS broadcast tower within a 30 or 40 mile range, then there's an excellent chance that you can watch sports or whatever else you want for free in HD quality. For more tips on using an antenna read my months-long studies: How to Choose the Best TV antenna & DVR and The Best Indoor TV Antennas.
If an antenna won't work for you, keep reading. There are plenty of other alternatives to cable so you can keep a live stream of CBS flowing to your TV.
CBS All Access offers a live stream and on-demand
CBS All Access gives you more than just a way to live stream CBS stations. A vast collection of shows are on-demand along with exclusive new ones like One Dollar and Star Trek Discovery. You can't find those All Access exclusives on cable TV.
Subscribers can stream up two shows simultaneously on separate devices. So someone might want to watch that latest Star Trek episode, while another member of the family catches up on The Big Bang Theory in the other room.
CBS All Access still has commercials despite it being a subscription-based platform. Recently, CBS began offering a commercial-free package, but that costs $9.99 per month. It's a solid alternative to cable if you just want CBS programming and minimize your costs. CBS All Access let's you try out its service free for a week.
Live Stream CBS on DirecTV Now
DirecTV Now lets you live stream CBS from your smartphone, Roku, Apple TV and most other major streaming devices. There's one exception: there's no app for Android TV. CBS is available across all four channel bundles offered by DirecTV Now. The least expensive bundle gives you 65+ live channels for $40 per month. That package includes AMC, Animal Planet, History, HGTV and Viceland. Try out DirecTV Now with a free 7-day trial.
Watch CBS online, and CBS Sports Network with fuboTV
fuboTV offers CBS and CBS Sports Network as part of a 70+ channel bundle.
fuboTV is a sports-first platform, but doesn't leave out your entertainment needs. A&E, History, Bravo, HGTV, TNT, CNN and Travel Channel are included in the entry-level channel bundle. Soccer fans will get to watch all the matches they want with beIN Sports.
Look over the channel lineup in your area to see what kind of local regional sports channels, or local NBC, CBS or FOX stations are available. A subscription costs $44.99 per month. Subscribers get 30 hours of Cloud DVR and a "look back", an on-demand feature that has sporting events that aired in the last 72 hours.
fuboTV became the first live streaming service to offer select sporting events in 4K on FS1. A fuboTV subscription also gets you access to TV Everywhere apps for more than 30 networks. You can watch fubo on the go on your iPhone, or at home with a Roku, NVIDIA Shield TV, Apple TV, Fire TV or Firestick.
Read my review of fuboTV if you want more details about their service. You can check out fuboTV free for 7 days.
CBS Live Stream on PlayStation Vue
PlayStation Vue lets you live stream CBS in select markets under its Access bundle for $45 per month. The Access plan gives you 48+ live channels. Bravo, CNN and National Geographic are among the channels in this package.
A limitless Cloud DVR feature is offered as part of your subscription. PlayStation Vue works on Roku, Amazon Fire TV and Android TV devices. You can also stream it on a PC. PS Vue has up to five simultaneous streams on different devices, but you will have to watch most of your programming within your home network. PlayStation Vue offers a free 5-day trial.
YouTube TV has a CBS Live Stream
When YouTube TV began expanding its coverage across the U.S., its parent company, Google, made sure to include local channels. CBS is available in many markets with YouTube TV. You will get 50+ channels for $40 per month, including ESPN, NBC, FOX AND CBS.
YouTube TV works on Roku, Apple TV, Chromecast and Android TV devices like NVIDIA Shield TV. There is no support on Fire TV or Fire Stick because of Google's ongoing spat with Amazon. You can try out YouTube TV with a free 7-day trial.
Is CBS on Sling TV?
No. According to The Chicago Tribune, CBS continues to be very selective about which streaming platforms the company partners with. CBS has struck agreements with DirecTV Now, Hulu with Live TV, YouTube TV and PlayStation Vue.
What's the best way to get a CBS Live Stream?
If you just want to live stream CBS and nothing else for football or a favorite show, then CBS All Access is the best deal at $5.99 per month. You can try out CBS All Access free for a week.
Hulu with Live TV is the best deal for most people who want to live stream CBS, and get a full suite of channels that they're used to watching with cable or satellite TV.
Hulu's Live TV package has A&E, Big Ten Network, ESPN, FS1, CNN, HGTV, and National Geographic channels. You can use your Hulu account to sign into 38 apps like FOX Sports Go, WatchESPN and FX NOW. And you are getting the additional Hulu on-demand service — all for $44.99 per month. Sign up for Hulu's Live TV plan. 
Sports fans, especially ones that watch a lot of NFL and college football, might want to consider trying out fuboTV free for 7 days. You'll be able to stream CBS, CBS Sports Network, NFL Network, Big Ten Network, PAC 12 Network, FS1 and FS2. Look over the channel lineup in your area to see if it's a good fit for you.
What's your favorite way to live stream CBS? Tell fellow readers in the comments below.