The Best Router of 2018 for streaming on multiple devices, gaming and NAS setups
The Netgear R7000
is the best router that you can buy right now to stream in HD or 4K HDR with consistent and uninterrupted speed.
The R7000 has a 1GHz dual core processor and high-end features like Dynamic Quality of Service to prioritize network traffic and Beamforming+. 
Everyone wants an Internet connection that runs like a hard charging river. Gaming without any lag, whether it's from a PC or PlayStation 4, still merits as a top priority in your life. And you want to make sure your router can meet multiple, simultaneous demands within your entire household.
Even if you're not a cord cutter like me, you expect a lot performance-wise from your Internet connection. Family members are streaming Netflix, playing a game on PlayStation 4 or Xbox One and surfing the web on a smartphone all over your house.
The Netgear R7000
is a slight upgrade from my 2017 pick — Netgear's R6400 — as best router for streaming and gaming on multiple devices. The differences between the two models are pretty simple. The R7000 has slightly higher upload and download speeds, and has a 1GHz dual core processor. There's also five Ethernet ports on the back of the router instead of four. If you're on a tight budget, the Netgear R6700
is an excellent buy and can easily handle more than a dozen devices inside a roughly 1,200 square foot home.
Finding the best router in 2018
You may wonder about whether you are getting enough speed from your Internet service provider. I suggest you look within your own home first.
Your wireless router and cable modem (which hopefully you own) makes up the foundation of your Internet connection.
This review focuses on the best wireless routers for streaming on multiple devices. We also recommend the best router based on your priorities at home. Whether it's gaming, setting up a NAS for home use or utilizing smart home features, WiFi routers are equipped with features tailored for these functions.
The Netgear R7000
 has the features that are best for HD and 4K HDR streaming. It's a very fast router that will expand the range of your WiFi signal into once dark areas of your home. 
ASUS RT-AC88U
is the best router for gaming on a PC, XBox One and PlayStation 4. It's performance rivals competitors like the Netgear Nighthawk X4, and remains arguably one of the most powerful routers on the market.
This 2018 review also weighs the benefits and drawbacks of using a mesh network instead of a wireless router. Before getting further into our lineup of the best routers of 2017, it's worth talking about cable modems for a moment.
For a cable modem, I recommend the Arris SURFboard SB6190
, especially if you are going to be using a high speed wireless router. It works with every major cable provider in the U.S., including Comcast and Spectrum. Buying my own cable modem gave me faster speeds than the Arris modem that I was renting from my former cable provider. I began saving a little over $60 in my first year of using it because I didn't have to rent a cable modem anymore.
Let's get back to talking about the best router for streaming or gaming. The bottom line is that you want a faster wireless router than the one you use today. And ideally, it will last for several years. 
Best router for under $100: TP-Link Archer C7 (AC1750)
If you are using a router that's more than four years old and giving you choppy reception when you're streaming, it's time to upgrade. The Netgear R6700
is now priced under $100, and there are a couple of other excellent options in that price range. You can stream Netflix wirelessly on a strong, but fairly inexpensive router like the  TP-Link Archer C7
. The Archer C7 is the best router for those on a budget. 
The change from using a single-band router will be monumental. The Archer C7 delivers a total bandwidth of 1.75Gbps. That includes 450Mbps at 2.4Ghz bandwidth and 1300Mbps at 5GHz bandwidth. (For an inexpensive gaming router, check out my review of the Tenda AC18. It's the best router for gamers under $100.) 
In the last few years, there have been major improvements with WiFi routers. Home entertainment options have been expanding as well. In addition to platforms like Netflix, Hulu and Amazon Video, you can also stream live channels over the Internet with services like Sling TV and PlayStation Vue.
At the same time, the lifespan for cable modems and routers may feel shorter these days than in years past. Remember when your cable router back in 2003 lasted you seven years before it started to drop your connection?
Those days are largely long gone. Talk to anyone in the electronics business, and they'll tell you that customers are replacing their routers every three to five years.
The funny thing is the hardware being made today is faster and of better quality than ever before. So why is there a shorter shelf life? It's pretty simple.
We're demanding more and more from our equipment, which runs 24/7 all year long. As an experiment, I have been turning off my cable modem, router and Amazon Fire TV
when I'm out of town for a few days. I'm hoping my hardware will last longer as a result. I'm always surprised how much heat comes off these devices while they are powered on. It's also a good idea to reset your devices for the best performance, and routinely check for firmware updates. We've outlined tips on how to improve the performance of router's in our review of WiFi range extenders.
What is a dual band router?
You don't need to be all that tech savvy to understand why owning a dual-band router is superior in speed and overall performance.
Just remember that lots of everyday items in your home already use 2.4GHz bandwidth. Baby monitors, garage door openers and Bluetooth earpieces all operate on it. The good part about 2.4GHz is that it can travel through walls and longer distances. With a 5GHz frequency, you're getting a faster data rate, but at a shorter distance. A dual-band router broadcasts separate 2.4GHz and 5GHz signals. These signals connect to your older and newer devices like a Roku TV or tablet.
There should be a lot less competition for your Internet signal with a dual-band wireless router. A single band router can be used for streaming, but not over any significant distance. You'd be better off running an Ethernet connection to your Roku
, Amazon Fire TV
or PlayStation 4
.
Dual band router vs single band router
As you research new routers, you may hear the term "power user" thrown around in reviews and user comments. Who are these folks? And what exactly are they doing that qualifies them as a power user? Trust me, they are nobody special. They may not have much more technical know-how than you. But they've done their research and know how to get the best performance out of their hardware. They know the merits of having a dual band router vs a single band router.
You might even be a power user and not even know it. A router that can handle streaming and gaming on multiple devices simultaneously is becoming a more mainstream expectation.
Highly customizable features for security and priority streaming are in bigger demand as more folks purchase a Roku
or Amazon Fire TV
to watch their favorite shows. You also might want to prioritize traffic going to the gamer in the other room who demands a certain amount of bandwidth for her PS4. 
Even if you are someone who wants a basic setup for your cord cutting household, there are two features that are favorites among power users that you'll want to look for. These two features are Quality of Service (QoS) and Beamforming.
Quality of Service (QoS) feature for better HD Streaming
Prioritizing your Internet traffic on a wireless router will significantly improve HD streaming in your home. A QoS feature on your router allows you to manage which devices get an Internet signal first. The streams can be dedicated to a Roku, a Nexus tablet or an Xbox One. A QoS feature will become even more valuable if you expect to add more things to your home that connect to the Internet.
These days, you can already buy a thermostat for your home that works off WiFi, so you can control the temperature from afar, or even with your voice using an Amazon Echo
. These WiFi-related innovations are sometimes referred to as the Internet of Things. I only mention this because if you're thinking of upgrading other tech around your home in the near future, a powerful router with customizable options may be more important than just making sure your Netflix can stream without any lag.
What is Beamforming on a router?
Wireless routers broadcast your Internet signal in all directions. Imagine tossing a pebble in the middle of a calm pond. Once the pebble hits the water, the ripples bloom outward. This image demonstrates a similar, but one-dimensional pattern of how wireless routers broadcast signals.
Beamforming, like the name suggests, manipulates the WiFi signal so that it's optimized and directed to a particular device. The result is a stronger, faster signal that has a longer range. You get WiFi coverage in areas that were once dead spots. And you have a more stable connection for voice and HD streaming.
Beamforming technology has been around for a few years now, but it's become more relevant with the growing demand from streaming platforms like Netflix and Amazon Prime
.
As HDR streaming becomes more commonplace, the demand will only grow. Beamforming can sometimes improve the signal between your router and an older device on 2.4GHz bandwidth. This is sometimes referred to as "implicit beamforming" because you're getting some improved performance. But it's not going to be as great as the improved signal on a 802.11ac device.
Not all 802.11ac routers come with Beamforming, which is a brand name. You may see other manufactures with similar names like SmartBeam and the like. If you are upgrading to a 802.11ac router like we suggest, you'll definitely want this feature. All of our recommendations below have Beamforming technology.
Best router for streaming: Netgear R7000
Netgear R7000
is the best router for streaming, and the top choice for cord cutters looking for a new wireless router. There are a number of high quality wireless routers on the market. In fact, some of them can cover vast areas of your home so you'll likely not need a WiFi range extender. The R7000
eliminates dead zones in large homes.
You could spend hundreds of dollars on a high performance router. But that's not necessary if you want to stream in 4K HDR or HD quality content and play video games simultaneously without interruption. 
The R7000 consistently provides excellent coverage for streaming with multiple devices at once throughout a large home. The user interface is easy to understand so setting custom features like QoS for prioritizing traffic on your network easy. You can manage both downstream and upstream traffic.
Beamforming+ also provides a strong, reliable stream to each device in a large home.
Netgear R7000 has five Ethernet ports, so you can plug in a number of devices without having to add on a desktop switch. There is 1 WAN and 4 LAN Gigabit Ethernet ports.
With two separate WiFi networks for older (2.4GHz) and new devices operating on 5GHz bandwidth, there is less competition among your devices for a single Internet stream. The 5GHz band operates up to 1300Mbps, while the 2.4GHz band runs up to 600Mbps.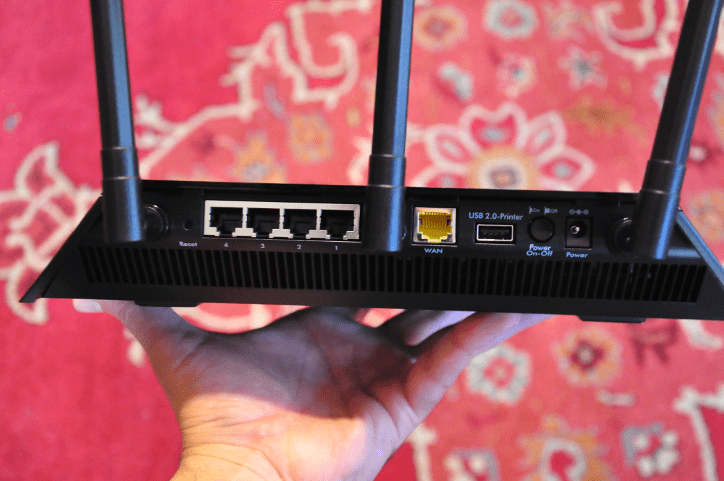 Other impressive features: The R7000
has a built-in VPN server for added security. If you are connecting to a public WiFi at a local library or coffee shop, the VPN server will give you an encrypted connection to your home router. This function alone can potentially save you big money. A third-party VPN service usually comes with a monthly fee. The R6400 is now compatible with Amazon Echo and Echo Dot. The Netgear Alexa Skill allows commands like, "Alexa, ask Netgear to reboot my router," or "Alexa, ask Netgear to enable guest network." 
R6400 also allows users to customize their setup with third-party firmware like Tomato. It's easily the best router out there given its performance and features for just under $160. 
Best router under $200 – Netgear R7000 vs R7800
The Netgear R7000 is also remarkably popular on sites like Amazon, earning 4.3 out of 5 stars with just over 10,400 customer reviews. 
The R7000 and Netgear R7800
is a common comparison that a lot of people make when shopping for a new router. The R7800 model (a.k.a. Nighthawk X4S Smart WiFi Gaming Router) has a faster 1.7GHz dual core processor. But neither model is the best gaming router out there. In fact, it's a much better purchase if you are in the market for a router that you can attach a hard drive to for a network attached storage (NAS) device.
The X4S is very fast and streams 160MHz bandwidth. It's great for backing up files and can deliver coverage of a homes up to 4,000 square feet.
You'll find many of the features on the R7000 like Dynamic QoS and OpenVPN. The higher end hardware gives you some added ones like MU-MIMO, which is explained below with my pick for the best gaming router. These two routers deliver a great range for coverage across a large home and some high performance features for a NAS setup for under $200.
Best router for gaming on PC or PS4, Xbox One: ASUS RT-AC88U
The ASUS RT-AC88U is the best gaming router in 2017. Users of this router will also be able to stream on multiple devices without any issues.
ASUS describes the RT-AC88U as the best router for high bandwidth activities beyond just gaming. It also places itself as the top choice for 4K streaming and smart homes. This is actually an instance where the bragging lives up to the hype.
There is 1 WAN port, but 8 Gigabit LAN ports – nearly double the number of ports on competing routers.
What makes the RT-AC88U the best router for gaming is the features. NitroQAM technology on the RT-AC88U ensures low-latency online gaming while making sure there isn't any lag for other people streaming content on your network. It accomplishes by its ability to channel a huge amount of bandwidth.
The RT-AC88U has bandwidth of 2,167 Mbps on 5GHz band, and 1,000Mbps on 2.4GHz band.
The user interface has many features, but it's simple to navigate.
Once you pull up the Game Boost menu, you will see two options to enhance gaming performance.
The RT-AC88U has an exclusive Gamer Private Network (GPN), also known as WTFast GPN. It automatically performs route optimization and chooses the most efficient path for your game packets. You get lifetime access to this service per one device, and cross platforms are supported.
There is also a LAN Boost feature, which is an adaptive QoS that optimizes inbound and outbound bandwidth. This works on both wired and wireless connections during gaming. Applications and tasks can be easily prioritized using drag and drop presets for gaming.
To get an idea of who might be hogging all the bandwidth, you can pull up the traffic analyzer feature. It gives you a look in real time so you can see what devices are using bandwidth the most.
This is the router you want not only for PC gaming, or wireless connectivity to a PlayStation 4 Pro, Xbox One for 4K gaming. You will likely see more 4K gaming hit the market this year, especially as more developers begin to make the most out of PlayStation VR.
NVIDIA Shield TV is now capable of streaming PC games with resolution up to 4K HDR to your TV.  You just need to be using a GeForce GTX-powered PC.
Built-in VPN, router doubles as NAS device
Like our top pick, the ASUS RT-AC88U  has a built-in VPN server and security features that protect you from hacking and malware. This is specifically a router for gamers. But one feature in particular makes this ASUS router stand out.
The RT-AC88U also has Multiple-User Input Multiple Output (MU-MIMO) technology.
Many routers can only deliver data to one device at a time. They're known as "SU-MIMO" or Single-User, Multiple-Input, Multiple-Output routers. In a SU-MIMO world, one streaming device will get priority over another.
If you are streaming Hulu on your Roku, while another family member is watching Netflix in another room, one device will get priority over the other. Don't panic. SU-MIMO routers are generally able to distribute data fast enough so that it's not noticeable in many households.
The ASUS RT-AC88U
can also become a NAS device when you connect a hard drive to it. But honestly, I wouldn't buy this device for that feature alone. This is arguably the most powerful and fastest router on the market, and it should be used for gaming.
What is a MU-MIMO router?
MU-MIMO routers can break up bandwidth into individual streams. So your devices will evenly get a piece of the stream instead of having to wait. To boil down the technology in simple terms, each laptop, Kindle or smartphone gets their own private router with MU-MIMO technology.
MU-MIMO is only relevant if you have MU-MIMO laptops, gaming consoles or a smart TV that can take advantage of the individual streams.
There's another caveat or two worth mentioning. If you have to MU-MIMO devices near each other, then they will end up sharing the same band. When they're apart – say in different parts of your house – they will get their own band.
Many devices – tablets, smartphones and laptops – are not yet outfitted as MU-MIMO devices. But the technology is expected to grow in popularity soon. So as far as an buying a "future proof" device, this is the right pick. You may already benefit from the RT-AC88U if you have a few MU-MIMO devices in your home.
Wireless Router vs Mesh Network
If you are using smart home devices like security cameras or a Nest Learning Thermostat
, your internet needs obviously go beyond streaming TV content or gaming from multiple devices. The question becomes: Should I buy a wireless router or a mesh network?
To get a legit answer, there are many factors to consider that are probably unique to your needs and your current living space.
So let me provide a rough rule of thumb.
If you live in a single story home around 2,000 square feet, chances are you will be fine with a Netgear R7000
. You will have great range and a fast, solid connection for basic smart home devices.
Larger homes, especially ones that are using multiple devices between two and three stories can benefit from a quality dual-band WiFi extender, or wireless repeater.
Sometimes, no matter how powerful the wireless extender, there are just some black spots that can't be stamped out. That can be caused by any number of factors, including building materials in your home and surrounding landscape. Your neighbors and the amount of devices they use that broadcast wireless signals can also be a factor. I'm not talking about the iPad that you see them using on their back deck. I'm talking about garage door openers and baby monitors.
So if you have problems with dark spots that won't seem to go away or a unique landscape, a mesh network is probably your best option. This year, I tested the Nova Whole Home Mesh WiFi System
and I consider it one of the best for its range and price. In my review of the best mesh network of 2017, I recommended Google Wifi
, and the Orbi Home Wifi System. 
How does a mesh network work?
A mesh network uses the same network name and can provide powerful Internet speeds over vast spaces.
If you are looking for a fast Internet connection to extend into a large backyard or faraway attic, chances are you're in the market for a mesh network. For avid smart home users, a mesh network is also an obvious choice.
With WiFi extenders, your devices will have to detect more than one network name or Service Set Identifier (SSID). Some people don't want more than one network name, or they will do something funky like set the wireless extender to the same SSID. (Don't do that! You'll seriously toll your Internet speed.) So, if you don't want your iPad to search for more than one network name, a mesh network is one solution worth considering. A mesh network is not an inexpensive enterprise, but prices for them have been dropping in 2018. 
TP-Link Archer C9, a step up from a budget pick
The TP-Link Archer C9
has the kind of speed and abilities you want with a dual-band router. It's not as feature rich as our top two choices. But it has plenty of power. It's the best router for streaming and gaming in a smaller home.
A 1GHz dual core processor is designed to deliver data for multiple HD streams (including 4K Ultra HD video) and demands from high-end gaming. The Archer C9 uses Beamforming technology and has its own version of a QoS feature. The dual band streams up to 600 Mbps on 2.4 GHz bandwidth, and up to 1300Mbps on 5GHz.
There are 4 LAN ports and 1 WAN port on the rear panel of the Archer C9
. There are nice security features that you would expect from a high-end router. The 5GHz signal did not have the same reach of our top pick or runner up. But this a great router if you only have a few streaming HD streaming demands in a single story or ranch style home. This shouldn't be confused with the wildly popular Archer C7
, which is also a dual band Gigabit router.
Best Router for Apple households
An Apple AirPort Extreme Base Station
is the best router for a home where iPads, an Apple TV and iPhones are mostly used to stream content.
The Airport Extreme is a dual band router that reaches data rates of up to 1.3 Gbps. The Airport Extreme can handle streaming from multiple Apple devices without lag. This WiFi router lacks QoS or the other customizable features we recommend for a cord cutting household. The set up for the Airport Extreme
is easy. It's better suited for people who aren't concerned about major features, but want to get the most out of their 802.11ac connection.
A final word about the finding the best router and cable modems
Remember when I described your cable modem as the foundation of your Internet connection? The current cable modem I use today doesn't match the maximum speeds of the Netgear R7000
. My current Internet speed is 50Mbps download. I want that can handle faster speeds anyway. If I upgrade my Internet subscription, my router and cable modem are ready to handle it.
A home's location, layout, Internet service provider and proximity to other wireless networks can impact performance of a network. People often blame their provider for poor performance of their Internet connection. It's a good idea to run a speed test before and after you install new a cable modem and wireless router.
To determine how to much spend on a router, there's something I've said in my cord cutting guide that's worth repeating here.
Budgeting a month's worth of your old cable bill for a new wireless router that will last years is a good call.
Hopefully, I have covered enough of the basics so you can make an informed decision before you upgrade any equipment. Let me know what you consider the best router for your needs in the comments below.  
* This article was originally published January 21, 2017, and updated March 3, 2018. All images and videos are property of The Cord Cutting Report.
Summary
Reviewer
Review Date
Reviewed Item
Best WiFi Routers (2017) for Streaming or Gaming on Multiple Devices
Author Rating