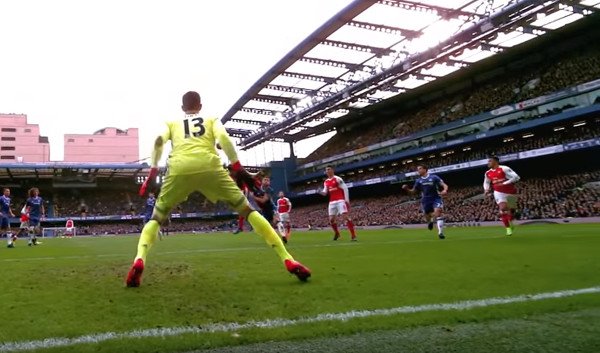 Live stream the FA Cup Final online
The FA Cup Final is the one of the most exciting events capping English football's premier competition. On Saturday, May 27th, Arsenal and Premier League champions Chelsea go head to head at Wembley Stadium in London.
Some sports betters believe that Chelsea is going to complete the double. The Telegraph is predicting a 2-0 win.
Of course, lots can happen when the two teams meet on the field.
If you want to watch this match and live in the U.S., you have a few options. The match is going to be on Fox in the U.S. so the easiest route is to simply get a quality TV antenna like the ClearStream Eclipse if you don't have a cable or satellite subscription.
But I think the best option is fuboTV for streaming sports events like FA Cup Final, and for all soccer games. I really like their DVR options and the versatility of their streaming service.
You can watch this sports-first platform on a Roku, Amazon Fire TV, Apple TV and Android TV devices like NVIDIA SHIELD TV. I've been using the service for a few months now, and recently wrote fubo tv: the definitive guide that reviews all of its features.
You can even sign up for a free 7-day trial to watch the match.
What time is kick off for FA Cup Final in the U.S.?
The action will begin at 12:30 p.m. ET in the U.S. on Fox. Across the pond, the actual kickoff time is 5:30 p.m. Traditionalists might prefer a 3 p.m. kick-off time in the UK, but organizers have recognized that the FA Cup Final attracts a huge international audience.
Who are previous winners of the competition?
In a preview to the match, the Telegraph assembled a comprehensive listing of face offs and winners going back to 1987. The competition has actually been going on much longer. It began in 1871. Here is a list of the last five years.
What are the odds for the FA Cup Final?  
Good question. There are plenty of places that put the chances of Chelsea vs Arsenal all over the place. Bleacherreport.com puts Chelsea at 3-2, and Arsenal at 9-4. Telegraph Sports predicts 1-2 for Chelsea to win, and 6-4 for Arsenal to win.
Can I stream FA Cup Final online?
Sure. With services like fuboTV, Sling TV and others, you can watch the match on your PC or mobile device. But I'm guessing you prefer to watch the match on TV, not on your computer.
Watch FA Cup Final without cable
There are a number of options for watching FA Cup final without cable. Like I said, if you have a TV antenna around your place, you should be all set. Just attach the antenna to your TV, be sure to scan for channels and tune in to your local FOX station. To figure out whether an antenna is a good option for you, check out my guide on how to choose the best TV antenna.
Some people either don't have the time or want to bother with an antenna setup, especially if they're renting or not near some broadcast towers. That's understandable. So I'm going to break down my top picks of live streaming services for FA Cup Final that you can watch either on a PC or a streaming device like a Roku or Fire TV.
Top pick: fubo TV
fuboTV carries FOX in select markets around the U.S. But even if you don't live in an area where FOX is in the channel lineup, you can still use your subscription to watch the match.
How? Use your fuboTV subscription to authenticate the Fox Sports 2 Go app. fuboTV has a long list of apps that it can authenticate with a subscription. Check out my recent article about how they now eclipse even Sling TV with app authentication. A fuboTV subscription will give you 64+ live channels, two simultaneous streams and Cloud DVR. You may want to check out the channel lineup and see what other sporting events might interest you.
Runner up: Sling TV
I've been a customer of Sling TV in the past and it's still a very reliable service. You will need to sign up for Sling Blue if you want to get FOX and watch Saturday's match.
Sling TV offers FOX in some areas of the U.S. You can easily check whether Sling TV offers FOX in your market.
Like fuboTV, you can take advantage of a free 7-day trial that Sling TV offers to watch the game. Sling Blue gives you 40+ channels for $25 per month. Popular channels in the Sling Blue package include AMC, History Channel, A&E and USA Network. Go to Sling TV site to check out their channel lineup. You can also try out a free 7-day trial.
PlayStation Vue
I have used PlayStation Vue for more than a year and it's a great service. Just head over to the PlayStation Vue page and type in your zip code. That will help you determine whether FOX is offered in your area. Channel subscriptions in most markets start at $29.99 per month for 45+ channels.
Access Slim package also has a number of other sports channels. PlayStation Vue offers a free 5-day trial.
DirecTV Now
DirecTV Now has a base-level channel lineup for $35 per month. You will definitely get FOX with DirecTV Now. They also have a DirecTV Now . 
You should be aware that DirecTV Now has no DVR function yet. But you can stream their service on just about every device except Roku. Pausing only works on some channels.
What's best way to watch the FA Cup Final?
fuboTV is my top choice for watching the FA Cup Final either online or on your TV without a cable subscription. Their 7-day free trial requires no commitment so just cancel online before the billing kicks in.
Remember, no matter what arrangements you make for the game, it airs in the U.S. on Fox at 12:30 ET on Saturday, May 27th. Good luck!



Summary
Article Name
How to Watch the 2017 FA Cup Final without Cable
Description
On Saturday, May 27th, Arsenal and Premier League champions Chelsea go head to head at Wembley Stadium in London.
Author
Publisher Name
Publisher Logo